We Will Rock You!
Chicago Rocks & Minerals Society 70th Annual Silent Auction
Saturday, March 9, 2019
6 PM to 9 PM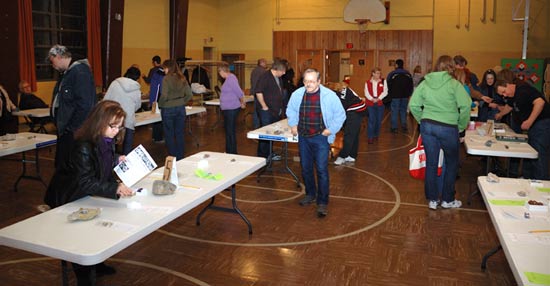 Photo by: Rod Piechowski
St. Peter's United Church of Christ Gymnasium
8013 Laramie Ave., Skokie, IL
(across the street from the Skokie Public Library on Oakton)
Families are welcome! Rockhounds of all ages can bid on a fascinating array of rocks, crystals, minerals, fossils, handmade jewelry, crafts, lapidary treasures including slabs and cabochons, books, magazines, and more. There are always great finds and bargains to be had. Plus, we have a special table of items just for kids. The first table closes at 6:30 p.m. Cash sales only. Admission and parking are free. Children must be accompanied by an adult. Enjoy homemade refreshments while you bid.
For more information, please contact us at info@chicagorocks.org or
call Jeanine Mielecki at 312-623-1554 or Craig Heinze at 847-584-8637.
A few more photos from past years...
Photos by: Rod Piechowski