Fishing for Fossils In Wyoming
Tips for Success
by Donald Baumgartner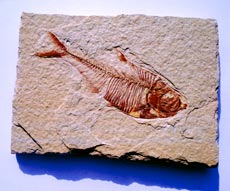 My summer vacation of 2010 was a fossil collection trip to Utah and Wyoming in pursuit of trilobites and fish fossils, respectively. With this article I herein elaborate on the second half of my expedition to Southwestern Wyoming near the town of Kemmerer in quest of fossil fish. I am writing this article for you to keep as advice if you want to follow my footsteps in the future.
The fossil fish of Kemmerer are world famous. These outcrops and quarries are Eocene in geologic age of the Green River Formation. Nearly every rock/fossil show sells fish from these hills (mostly Knightia eocaena) and I bet every fossil collector has a few Kemmerer fish in their collection.
Kemmerer is North of I80, well off the beaten path. The environment is mostly low grassland rather than desert, as in Utah to the South. During your stay in Kemmerer there are several smaller older motels, which I am sure are fine, but I would recommend the Best Western just South of town. It is only 2 years old and very clean. I was actually surprised that such a nice, large hotel is located in Kemmerer, out in no-where. If Best Western prices are a bit above your budget, the Fossil Butte Motel in town is a good second option - owner Ms. Jean Gray is a very friendly and helpful.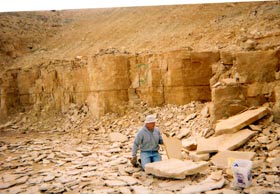 Be sure that your car tires are in good condition for this trip, as the road to the quarries is gravel or contains large stones that can cut your tires and ruin your trip very fast. This is especially true down in the quarries where the road beds are made of fish shale that is very sharp! Drive slowly on gravel and quarry roads and you will be glad you did! Although expensive, I was very glad that I purchased new tires for my SUV before the trip rather than waiting until after to replace the ageing tires. I am very sure that this move saved me time, money, and tremendous frustration/problems if I had a flat out on the barren expressways out West, or on a lonely gravel road 10 miles from no where.
The Fossil Butte National Monument is located a short drive north of town. I commend this as your very first stop in the area to get an appreciation for this world famous fossil deposit. Although relatively a small museum, it contains some handsome displays of the fossil fish and other animals/plants of the area. The huge fossil crocodiles and turtles are impressive. The museum store is small too, but has enough caps, T-shirts, posters, books, and other fossil related items of the area to satisfy your tourist spirit. Do not attempt to walk the old Historic Quarry Trail up into the hills. The walk is far too long to be worth it (I quit half way) and I am sure there is really little to see once you get there. En route to Fossil Butte you will pass Ulrich's Gallery store and preparation shop. This place is famous and worth a stop to look around, but their prepared fish are high priced and their quarry access fee is high & you can only keep a few fish.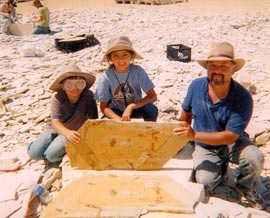 On your second day in Kemmerer, I recommend going to a fossil fish quarry to dig your own fish fossils. While there exists a couple notable public access fee based fish quarries in the area, the only one worth the money and effort is Warfield Fossil Quarry. Before you go, stop at the Creative Creations store in town to pick up a better hand sketch map to Warfield and to buy your special rock splitter iron bar if you need one (this tool is essential). Perhaps an hour drive North of town, Warfield is the best choice for the money. Do not go if it has rained previously or if rain is imminent that day because the dirt road quickly turns to mud and you will get stuck many miles from help. Drive the gravel roads slowly as the gravel is sharp and will puncture your car tires if you travel at careless speeds, especially as you enter the Quarry itself. The road in the Quarry is composed of quarry rock which IS very sharp. Quarry rates are for 2 hours, 4 hrs, or a full-day collecting, but only pay for the 4 hrs. This time is enough time to get the hang of it and find fish, and it will take 1-2 hrs after your collecting time to carefully wrap all your fossils for that drive home. Go early in the day for a noonish finish. At Warfield you can keep nearly everything you find, except for those rare fossils. The quarry has easy access from your car, and the staff frequently exposes new rock from the cliff for splitting, or you can pull down blocks yourself. Staff are friendly and helpful for the most part. After your first day of collecting, you can then decide if it worth paying for a second day. I personally did not think the collecting fee was worth a return. During my 4-hour collecting limit I found many fish partials and a few complete fish, including a large Mioplosus fish missing a head. The fish are not super abundant and you have to split a lot of shale.
The Kemmerer ash shale is very soft and splits easily. The only recommended collecting equipment needed are long pants, boots, knee-pads, thick leather (not soft garden) gloves (rocks are very sharp), hat, sunscreen, newspaper (or better yet bubble wrap) to wrap-up the fossils, plastic bin or box to stack the fossils standing-up for the trip home (fragile shale will scratch or crack if stacked vertically), rock hammer, sharpened iron split blade, large pry bar (to leverage out more large blocks of shale from the quarry wall), cardboard flats (to transport the treasures back to the car) wide chisel (to chop off excess rock from specimens), toilet paper (for out house), first aid kit, and a fine toothed hack saw (to trim the rock). Yes, I said to bring a hack saw. Turns out that the shale is so soft that you can easily trim/cut it with a regular fine-toothed hack saw — no fancy, expensive, and heavy rock diamond circular saw if needed here. The iron split blades are an essential tool and are not available in Chicago at any store. Either buy them in advance through the supplier referenced below, or buy them in Kemmerer at the store Creative Creations. Forget the hard hat (not required), shade tent/canopy (sun really not that bad for 4 hrs. of collecting), and sledge hammer (this is not limestone folks).
The technique to find fossil fish is simple. Select large, thick slabs of the shale, and split them on end with gentle taps of the hammer on your newly purchased iron blade, along the edge. Several taps along the entire edge works better than a hard wack only at one spot. Then hope that the split layers have some fish. The bigger the size of the rock being split, the greater the chance of obtaining an entire fish or multiple fish. I guarantee that everyone will find fish. Trim the rock on-site AFTER your time has expired, before packing them for the trip home.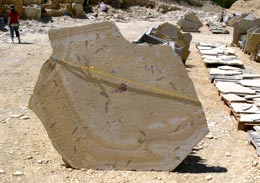 On your third day in Kemmerer, you may return back to the quarry to hunt again, or my preference was to do some sightseeing and "hunting" for fossil fish and other stuff in town stores. Obvious in town and worth a brief stop is the unique wall of mining history along main street that depicts the mining history of Diamondville, the town just adjacent to Kemmerer. However, the "diamonds" they refer to are actually "black diamonds" or coal. Do not miss the store off main street that was the very first J.C. Penny store in the U.S. Three rock shops exist in this 3 stop light town. Bobs Rock Shop has mostly wood for sale. Tynsky's rock shop is small and does have a few nice, large Green River fossil plates on display and for sale. My favorite rock shop in town is Creative Creations. Really an antique shop and easy to miss as a fossil supplier if not for the sign and large fossil plate in the window, the fossils for sale are down stairs. The owner George Putnam is very friendly, knowledgeable, and his fossils are reasonably priced. He will answer all your questions.
On my trip I missed the Kemmerer Fossil Country Museum (ph. 307/877-6551 or http://www.hamsfork.net/~museum/ ), only because I ran out of time. It is only list for a visit next time, if only to see the replica coal mine, hadrosaur footprint, and two-bodied lamb.
This concludes my recommendations for a nice 3 day fossil vacation in Kemmerer, Wyoming. Without a doubt, you will have fun and bring home some fossil treasures to tell your kids or grand-kids about. Better yet, take along your children or grand-children and give them a vacation to remember for years to come.
All in all, this fossil fishing trip was fun and productive. Fish treasures I collected included : Knightia eocaena; Knightia alta; Mioplosus labracoides; Diplomystus dentatus; Priscara liops; and Amphiplaga brachyptera.
I wish to acknowledge and thank the following people who promptly responded to my pre-trip inquiries for advice and collecting suggestions: Richard Rock, Deena Knox, Richard Hill, Tom Stout, and Alan Silverstein.
Useful References:
Green River Fossil Fish Background:
http://fossilnews.com/2000/grnrv/grnrv.html
http://www.ucmp.berkeley.edu/tertiary/eoc/greenriver.html
http://www.fossilsites.com/STATES/WY.HTM
Fossil Butte National Monument:
http://www.nps.gov/fobu/
http://www.city-data.com/articles/Fossil-Butte-National-Monument-Wyoming.html
http://www.nature.nps.gov/geology/parks/fobu/
Warfield Quarry in Kemmerer:
http://www.fossilsafari.com/ or ph. 307/883-2445.
http://www.fossilsafari.com/warfield/
Warfield Quarry Recommendations:
http://www.orerockon.com/Green%20River%20fossils.htm
http://www.nautiloid.net/fossils/sites/kemmerer/kemmerer.html
http://hubpages.com/hub/Gone-Fishin
http://www.travelsavvymom.com/blog/family-travel/digging-for-fossils-in-wyoming/
http://www.thefossilforum.com/index.php?/topic/6212-wyoming-fish-quarries/

Ulrich Quarry:
http://www.ulrichsfossilgallery.com/
Kemmerer WY Fossil Fish Hunting Videos:
http://www.youtube.com/watch?v=DK9CETVb08E&feature=related
http://www.youtube.com/watch?v=0iy2a_Ce5Js
http://www.youtube.com/watch?v=4MhXZcVZe58&feature=related
http://www.youtube.com/watch?v=b5quKSZJzOM
Fossil Tool Supplier: Geological Tools and Outfitter 435/225-6421 or http://www.geo-tools.com/
Area Store Worth Visiting: Creative Creations (George Putnam owner), 821 So. Main Street, Kemmerer, WY 83101; 307/877-3366
Area Accommodations: Best Western Fossil Country Inn and Suites, 760 Hwy. 189/30, Kemmerer, WY 83101; 307/877-3388 or http://www.bestwesternwyoming.com/hotels/best-western-fossil-country-inn-and-suites/
The Author Donald Baumgartner:
Don is a Life Scientist and Medical Entomologist employed at the U.S. EPA in Chicago in pesticide regulation. Fossils are his hobby and addiction. While a general collector, Don favors Cambrian fauna, Mazon Creek stuff, insects, jellyfish, and traces. In addition to much local collecting in IL, IN, MI, IA, MN, and WI, Don's long distance fossil expeditions include digging dinosaurs and Perrie Shale ammonites in Montana, extracting dino tracks in MA, shark teeth and shell hunting in FL and NC, crabbing in WA, spearing jellyfish on fossil beaches in WI, clamming on OR beaches, netting fossil insects in CO, trapping trilobites in UT and now stone fishing in WY. Donald may be reached at mazonfossils@yahoo.com .
For permission to reprint this article, contact Donald Baumgartner at mazonfossils@yahoo.com.