We Are Getting Ready For Our
69th Annual Silent Auction
Join us on Saturday, March 10, 2018 from 6PM to 9 PM
for an evening of fun, food and great deals.
Click here for the latest information on our 69th annual auction.
This auction is going to be one of our best!
We have acquired the collection of Robert and Elinor Patterson. The Patterson's traveled across the U.S. in their camper collecting rocks. Upon returning home, they cut and slabbed their finds to reveal their true colors. At the auction you can expect to find old rough, cutting material and slabs. Some of the collection actually has the day they were collected on, dates range from the early 50's through the late 60's. Robert had an ingenious way to cut slabs from smaller geodes and agates. Be sure to check it out or perhaps go home with a "brick". There will be a huge selection of agates, beautiful plumes, many types of lace, Lake Superior specimens and fire agates. A large selection of thunder eggs, petrified woods and obsidian will also be available along with many other types of specimens. The collection was donated by their grandson, Jeff. He wanted to be sure the collection went to people who would enjoy it as much as his grandparents' did. This is an old collection that is not to be missed.
Club members are to start filling out their forms
for the auction and bring them to our next meeting.



Photos by: Rod Piechowski
---
Our Speaker for April 14, 2018 is Chris Clemens,
President, Midwest Chapter of the Fluorescent Mineral Society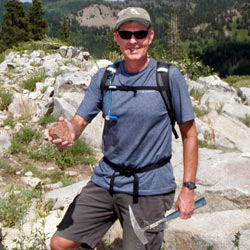 Expect a glowing presentation! Chris will explain the phenomenon of fluorescence, including its cause and why some rocks glow under ultraviolet (UV) light. He will show examples of beautiful fluorescent minerals from around the world, the US and notable locations in the Midwest. Chris will bring a couple of UV lamps with him and briefly discuss new innovations in the UV field lamp technology and resources available to the fluorescent mineral collector. Everyone is invited to bring rocks to the meeting if they'd like and Chris will check them for fluorescence.
President of the Midwest Chapter of the Fluorescent Mineral Society, Chris Clemens is a research scientist by education and profession. His work currently focuses on the use of targeted fluorescent dyes to label and identify cancer biomarkers in malignant cells. Chris has been interested in rocks, minerals and fossils since childhood. His primary interests include fluorescent minerals, mineral photography, the collection of fine minerals from Midwest locations and local geology. Chris moved to Crown Point, Indiana, four years ago after having lived in Utah for 30 years. He is a past president of the Calumet Gem & Mineral Society in Northwestern Indiana.
The Fluorescent Mineral Society is an international organization of professional mineralogists, gemologists, amateur collectors, and others who study and collect fluorescent minerals. Their mission is to bring together people who are interested in fluorescent minerals, and to introduce the public to the hobby of fluorescent mineral collecting. They share knowledge and experience in collecting, identifying, and displaying minerals which exhibit various forms of luminescence including fluorescence, phosphorescence, triboluminescence, and thermoluminescence.
Featured Specimen
— Purple Fluorite —
with Purple Zoning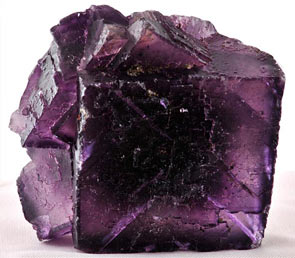 — from Hardin County, IL —
---
Newsletter Contributions
Our newsletter, The Pick And Dop Stick, is always looking for new submissions. If you have an article you would like to submit to the newsletter, a news item, pictures of one of your rockhound adventures, or another contribution, please send it to Rachele.Best@yahoo.com. We welcome all kinds of contributions!
---
Talk About Digging Things Up!
The club has recently come across old newsletters. We are in the process of digitizing them for posterity's sake. I thought it would be great to post the very first newsletter of our club here for all to see. This newsletter was originally mimeographed (remember the smell of mimeographed pages!) and later zeroxed. With some time and effort, it was scanned in and cleaned up. Click here to see what was going on in the club in October of 1946.
---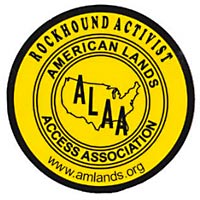 The Latest from the ALAA

The ALAA (American Lands Access Association) is the lobbying arm of the American Federation, working on behalf of rockhounds to keep public lands open and accessible to all, including the elderly and handicapped. Click here to read a few of the hot topics they are working on right now for rockhounds like us. For more information about who they are, a full list of what they are working on on, to become a member, or get involved, visit their website at: http://www.amlands.org/.
---
Did you miss our February 2017 meeting?

At our February 2017 meeting, our very own geologist, Ben Chorn, talked to us about Montana Agates. If you missed the meeting, like so many others who decided the warmth of Arizona and the Tucson Show were calling, you are in luck! Ben taped his presentation just for you. See it here or on YouTube. He has also inspired me to add a new page to the website under "References" called "Video Presentations". Get the popcorn ready & enjoy the show!!
---
Geo Juniors are having thier own meetings!

The Geo Juniors are having their own meetings. The kids' meetings are from 6:15 pm to 7:15 pm on the same evenings as our regular meetings, the second Saturday of the month. These budding rockhounds will be learning all about what it take to become one. At the meetings, they will be working on badge work, helping to design and build their website, geojuniors.com, related crafts and a host of other things to help them become the newest generation of rockhounds.
---
Check out our Calendar of Events for more great rockhound events!