Our next meeting is May 13, 2017
Speaker Dave Rice presents "Sham Rocks"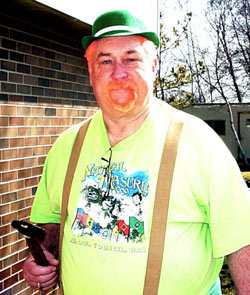 Dave Rice of the Rock River Valley Gem & Mineral Society presents "Sham Rocks". These are rocks which can be manmade, enhanced little or a lot by man, and outright fakes. Dave was our September 2015 speaker on agates. Welcome back, Dave!
Dave is a lifelong collector of rocks and minerals who, coincidentally, studied chemistry at the Ohio State University. They wouldn't allow him into the geology department because he had rocks in his head and took everything for granite.
With a teacher for a mother and a father who was self-employed, his family enjoyed month-long trips through the American west each summer. These turned into journeys from rock shop to rock shop, and interstate highways were only the quickest way between those shops, with all family members charged to watch for advertising signs along the highway.
In high school, his mother introduced him to a lapidary a few blocks from his home, and they became fast friends. This lapidary subsequently gave Dave the first option on any new material he obtained ... and the more unusual the better. Dave became interested in simulants when he wanted a star sapphire and could only afford a Linde Star.
After joining the Rock River Valley Gem & Mineral Society in Rockford, Illinois, he met Susan Stanforth who suggested they collectively do a presentation on man-made materials and fakes for the March meeting. Because of the proximity of St. Patrick's Day, they decided to call it "Sham Rocks." It went downhill from there...
---
June's speaker: Cary Hedrick - Her topic: Beginning Chain Maille.
Elections are this June, all positions are available.
Elections will be held at our June meeting. All positions are currently open. We are looking for a new President, Vice-President, Secretary and Treasurer. If you are interested or know someone to nominate for one of these positions, contact us at info@chicagorocks.org.
---
Memorial Day is around the corner and we all know what that means...
The CGMA Show Needs Volunteers!!
NEW LOCATION THIS YEAR!
Kane County Fairgrounds
525 S Randall Rd., St Charles, IL 60174
The show is on Saturday May 27 and Sunday, May 28, 2017, do notice the new location. What can you do to help out? Just plain out work the show. For 3 hours of work, you get free admission into the show, plus, a nifty t-shirt. You can be a demonstrator at the show and showcase your talents. Can't be there but still want to help? How about filling a display case. We have people that can set it up for you if you can't get there. Not only would you be volunteering on the club's behalf, but you would also be bringing in funds for the club. Club members who want to help out at the show can contact us at info@chicagorocks.org.
The clubs of CGMA are Chicago Rocks & Minerals Society (Skokie), West Suburban Lapidary Club (Elmhurst), Earth Science Club of Northern Illinois (ESCONI, Glen Ellyn), South Suburban Earth Science Club (Park Forest), Des Plaines Valley Geological Society (Des Plaines), Elgin Rock Club (Elgin), and Northeast Illinois Gold Prospectors (Mokena).
If you are looking for more information about the show visit our CGMA Show Page.
Featured Specimen
— Cavansite on Heulandite —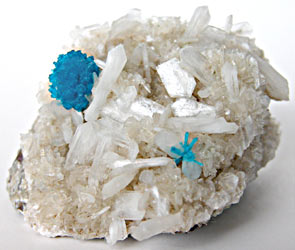 — from India —
---
Newsletter Contributions
Our newsletter, The Pick And Dop Stick, is always looking for new submissions. If you have an article you would like to submit to the newsletter, a news item, pictures of one of your rockhound adventures, or another contribution, please send it to Rachele.Best@yahoo.com. We welcome all kinds of contributions!
---
Talk About Digging Things Up!
The club has recently come across old newsletters. We are in the process of digitizing them for posterity's sake. I thought it would be great to post the very first newsletter of our club here for all to see. This newsletter was originally mimeographed (remember the smell of mimeographed pages!) and later zeroxed. With some time and effort, it was scanned in and cleaned up. Click here to see what was going on in the club in October of 1946.
---
Did you miss our February meeting?

At our February meeting, our very own geologist, Ben Chorn, talked to us about Montana Agates. If you missed the meeting, like so many others who decided the warmth of Arizona and the Tucson Show were calling, you are in luck! Ben taped his presentation just for you. See it here or on YouTube. He has also inspired me to add a new page to the website under "References" called "Video Presentations". Get the popcorn ready & enjoy the show!!
---
Geo Juniors are having thier own meetings!

Starting this September, the Geo Juniors are having their own meetings. The kids' meetings are from 6:15 pm to 7:15 pm on the same evenings as our regular meetings, the second Saturday of the month. These budding rockhounds will be learning all about what it take to become one. At the meetings, they will be working on badge work, helping to design and build their website, geojuniors.com, related crafts and a host of other things to help them become the newest generation of rockhounds.
---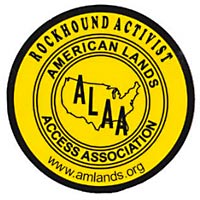 The Latest from the ALAA

The ALAA (American Lands Access Association) is the lobbying arm of the American Federation, working on behalf of rockhounds to keep public lands open and accessible to all, including the elderly and handicapped. Click here to read a few of the hot topics they are working on right now for rockhounds like us. For more information about who they are, a full list of what they are working on on, to become a member, or get involved, visit their website at: http://www.amlands.org/.
Who needs to band together to fight public land closures?
hikers, bikers, rafters, hunters, rock hounds, fishermen/women, equestrians, campers, prospectors, miners, boaters, dirt bikes, rock crawlers, loggers, kayakers, astronomers, bird watchers, snowmobilers, cross-country skiers, rock climbers, marksmen/women, 4x4s, nature photographers, jeep racers, mushroom collectors, long-range shooters, ranchers/grazers, rural communities
---
Check out our Calendar of Events for more great rockhound events!